Pony HopsŪ Original InflatablesUSA Inflatable Ponies Design

PonyHops....Hippity Hops...Bouncers!!!
WARNING!!!

From Inflatables-USA the original Designers & Manufacturers........PONYHOPS ARE WILD & UNTAMED!!!

PonyHops

®

Always Steal the Show!!!....Designed for Party Rental & Promotions Industry. Made with

Duro-Tuff

PVC Material used in River Rapids & Sea Towable Inflatables. Utilizes Premium High Quality 3/4 Inch Diameter Self Sealing Screw Air Valve which assures Zero Air Loss During Electric Air Pump Fill and also works as a quick air release for Super

Fast

Deflation...A 840 Denier Sleeve provides extended Durability.....Designed for Party Rental Industry, Picnic Races, Team Competition, Derby Days, Sports Promotions, FundRaising, Kids Activity Centers, Pony Rides & Petting Zoo's.
Warranty-1yr Workmanship & Materials
SIZE Ages H x L x Diameter Box-of-4 Single Pony

SMALL

3-6yrs 35" x 35" x 12"(Dia)
$440

Feb Sale Price

$399

$110
MEDIUM

7-12yrs 46" x 46" x 17"(Dia)
$499

Feb Sale Price

$449
$125
LARGE

13+yrs 55" x 55" x 22"(Dia)
$599

Feb Sale Price

$499

$150
Discounts to Schools, Non-Profits & Charities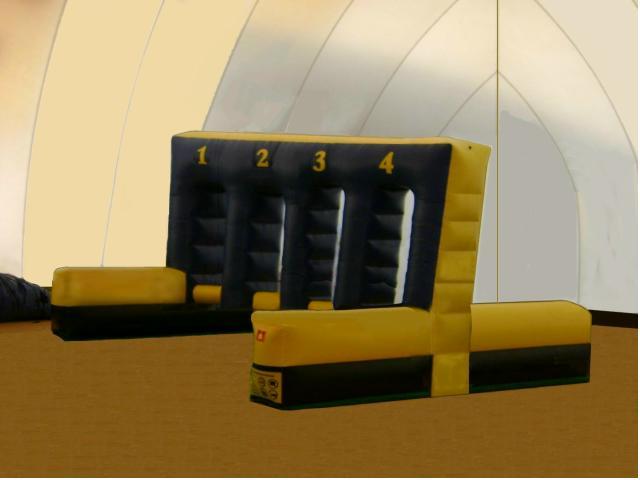 Neck & Neck PonyHops Racing Gate Western Theme
STAND ALONE - Racing Gate :
Allows setting the finish line at any distance short or long
Is much lighter in weight than the Derby
Is lower in investment costs for event companies specializing in Horse Racing themed Derby Day packages for Sports Parties, DJ's, Promotions & Fundraising
Is easy to fit into any indoor/outdoor special event or party for year round profits.
Dimensions: H-10' L-10'
Width 3-Lane 15'
Width 4-Lane 19'
Weight 120lbs 19oz-Vinyl Material
Pricing Does NOT include Blower or Freight.
$2499 3-Lane PonyHop Gate
$2999 4-Lane PonyHop Gate
We will not be stocking the PonyHops Racing Gate but making them as a special order.
Customers can choose Color Scheme for a $300 color option charge.
"D" Rings positioned at corners of each side for tie off of 10'x3' Banners for Company Logo, Sponsor logos for Fundraising & Promotions...
PonyHops "Neck & Neck" Derby $3999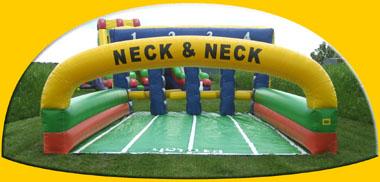 PonyHops Neck & Neck Derby 30'x20'x10'
| | |
| --- | --- |
| Custom PonyHop Derby Horse Racetrack | 4-Lane Arizona PonyHops Derby Racetrack |
Castle PlayHouse...1- 4yrs Distributor Pricing
| | |
| --- | --- |
| 25'x25'x7' 625sqft $999 Includes Blower | Triangle CastleMaze 22'x14'x6' $499 |
| | | |
| --- | --- | --- |
| FOOTBRAWLERS | FOOTBRAWLERS | FOOTBRAWLERS |
...WHOLESALE & DISTRIBUTOR BUYERS ONLY...

FootBrawlers Videos on YOU TUBE
2. Boxed: 2-Footbrawlers per Box plus one Velcro attachable Football
3. Weight: 14lbs(ea)
4. Outside Dimensions 40" x 33"
5. Inside Dimensions 24" x 17"
6. Inflation: 3-5minutes with a common $20 air mattress pump from Wal-Mart
in the camping section...Ozark Trails or Coleman...Any Shop Vac will work as well.


Footbrawlers are designed as a stack of inflatable tubes which make it easy to get into. Simply slip the entire inflated Footbrawler over the players head which completely cocoons the player from shoulder to below the knee....There are a series of fabric handles inside at 3 different levels to accommodate all players...by grasping the internal handles the players are able to easily lift and direct the 14lb inflatable Footbrawler through any Team Building Race Competition Obstacle Course of Pylons or other football props. The Helmet is Velcro removable allowing for NFL or College Team football helmets to worn for promotions activities. You can also use the Inflatable NFL or College Team helmets that are commonly sold and worn at football games...

Players cannot run very fast...movements are more like a Flintstone shuffle. Used for SuperBowl Promotions and various Larger Football Promotions with Radio stations and Marketing/Advertising Companies. Each player is completely protected in an inflatable cocoon from shoulders to mid knee that is easy to get into and out of. Each Footbrawler is a One Size Fits All Design by Adding or Subtracting the single and double tubes with a wrap-around heavy duty #10 plastic zipper. ...NO need to purchase Small, Medium, Large and X-Large Sizes....Designed for Fun Promotions, Corporate Picnics, Team Building and Family Events.
...Slip-N-Sliiiiiiiiiide...
23' Slip-N-Slide


$1499(ea)



INCLUDES:


-WATER SPRAY HOSE
-5yr WARRANTY




43' Slip-N-Slide


$2499(ea)



INCLUDES:


-WATER SPRAY HOSE
-5yr WARRANTY




TradeShow Booth 10'x10'x11' 62lbs...
| | | |
| --- | --- | --- |
| SQUARE LEG KIOSK 10'x10'x11' BLOWER INCLUDED $1499 | ROUND LEG KIOSK 10'x10'x11' BLOWER INCLUDED $1499 | CARNIVAL GAME BOOTH ROUND LEG 10'x10'x11' BLOWER INCLUDED $1499 |
| | | |
| --- | --- | --- |
| FIESTA KIOSK 10'x10x11' BLOWER INCLUDED $4999 | SPORTS KIOSK 10'x10'x11' BLOWER INCLUDED $2999 | CORPORATE SAMPLE BOOTH 10'x10'x11' BLOWER INCLUDED $2999 |
BillBoard & Movie Screen Inflatables
| | |
| --- | --- |
| 14x18ft..95lbs...$1499 100%..WaterProof-Vinyl | 22x26ft..155lbs...$4900 100%..WaterProof-Vinyl |
| | | |
| --- | --- | --- |
| Throwing Games | Corporate Product Promotional Games | StrikeZone Baseball Target |
| | | |
| --- | --- | --- |
| Radio Games & Corporate Promotions | PitcHitter Baseball Throwing Game | Radio Product Promotions |
THROWING GAMES: for Prize Giveaway....
Corporate Product Promotions...Radio & Sports Promotions

THROW: BeanBags, Mini-Footballs, Nerfballs, Foamballs, Frisbees...

THROW: Anything Soft-Safe and Weird like Rubber Duckies...

THROW: Mini-Corporate Product Replicas like Rubber Pizzas...

Vary the Degree of Difficulty by creating 3 Throwing Lines:
Little League
Big League
SuperStar

Dimensions Inflatable: 14'-High x 18'-Wide
Dimensions Screen: 9'-High x 13'-Wide
Weight: 95lbs
-Target Blank attaches via Velcro and/or Grommet Rings
-5yr Warranty Workmanship & Materials
-Price Includes Inflatable, Blank Target & Blower
-Custom Logos & Target Design quoted separately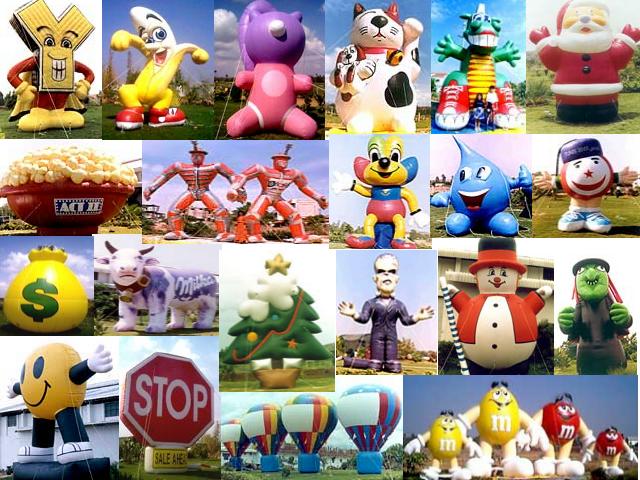 Custom Designed Inflatables